CASUAL WATERFRONT DINING
AT FISH TALES BAR & GRILL
A Gentle Breeze. An Island Vibe. Magnificent Meals. Casual Contentment.
All this "happiness" is served up beachside at Fish Tales Bar & Grill along with delectable creations and a big dollop of friendly hospitality. The fresh, Caribbean-inspired menu, tropical libations and full bar are rivaled only by the tallness of the "tales" that seem to grow as each lively evening progresses. Not only does Fish Tales delight Graham's Place guests, but also guests from other local Caribbean hotels who travel miles by boat to savor its cuisine, enjoy its casual open-air ambience, and select from its local and imported beer, wine, spirits, and legendary tropical drinks. And, everything is served with a smile.
Graham's Place gathers fresh, quality ingredients from local farmers and fisherman, and also has its own garden and fruit trees that it harvests for the restaurant. The menu is diverse — featuring fresh seafood, steaks, burgers, chicken, and more. However, it is the signature dishes like the coconut onion rings, lobster, jalapeno pork with "pirate" sauce, grilled steak and mushrooms, jerk chicken with pasta, and the "local" Tipico breakfast, that have guests raving and coming back. A daily made-to-order American breakfast featuring eggs, ham or bacon, toast, juice and coffee is complimentary for  guests.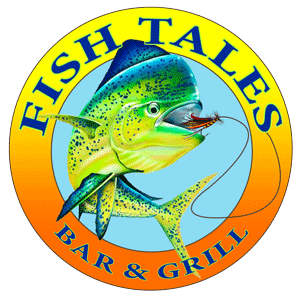 Fish Tales is open for breakfast, lunch and dinner from 7:00 a.m. until 10 p.m.
The bar is open until 11 p.m. or later for special requests and celebrations.